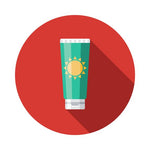 Recently, the US Food and Drug Administration (FDA) took a big step to regulate over the counter sunscreens. Two out of 16 sunscreen ingredients have been deemed unsafe - PABA and trolamine salicylate - and the FDA will be looking into twelve others further, including oxybenzone. Currently, the only two ingredients in sunscreens that are considered to be safe are zinc oxide and titanium dioxide.
A senior scientist at the Environmental Working Group said that "ingredients [like oxybenzone] can stay on the market, they're not coming off the market, but the clock is ticking on them." Yet, some regions of the world have already taken huge steps in regulating sunscreens. For example, Key West and the state of Hawaii have recently banned all sunscreens formulated with oxybenzone because of its effects on coral reefs. No Soleil Toujours products have ever contained oxybenzone and never will. Our dedication to making sunscreen effective and safe has been important since our founding and we are glad that the US FDA is finally taking sunscreen regulation more seriously.
While other sunscreen companies will have to reformulate the majority of their sunscreens, we will continue to provide the best ingredients that merge our love of sun care and skin care.