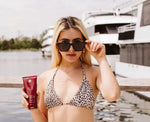 I was recently introduced to Soleil Toujours Organic Sunless Tanning serum and lotion and I'm officially obsessed! For some reason I think I look x100 times better when I'm tan! Having a sun-kissed complexion hides my veins, and blemishes and makes my hair and eyes pop! Sitting all day outside in the sun to achieve the perfect bronzed color is quite a devotion not to mention it's not healthy for your skin. In order to be smarter about my skin and long-term health I like to use a self tanner instead of laying out so I can still get the look I want without sacrificing my skin or time! 
    I really like the Soleil Toujours Tanning Serum because it's instant! After washing and gently pat drying my face I use a couple drops of the serum and evenly rub it all over my face. I let it sit for a few minutes before applying my moisturizer and sunscreen. It gives me color in a matter of minutes. So it's super easy and quick to use. If you use the drops on a daily basis you will continue to get darker. Just stop when you are happy with the shade. 
If you want a more gradual looking tan just mix the drops with your moisturizer and apply as a blend. This will result in a more subtle tan.
I'm pretty good at protecting my face when I'm at the beach. That means wearing large sunglasses and a hat on top of applied sunscreen. After getting back from the beach my body was a lot darker than my face, because I'm so good at hiding my face from the sun. I used the Soleil Toujours Tanning Serum and it evened out my face color to match the rest of my body so I looked tan all over without any face sunburns or sun spots! 
Also, right before I went to the beach I used the Soleil Toujours Tanning Lotion shade "medium" all over my body. I was pretty pale to start and didn't want to look translucent on the beach for the first time in my bikini. For two days before we left for the beach I applied the Soleil Toujours Tanning lotion. It was perfect! I didn't feel pressured to lay out all day right when I got there. I could enjoy the beach because I already looked tan! 
Just be careful when applying to your feet, knees, or elbows. You don't want to apply too much there. I was short on time, and used the lotion in the morning and wore dark loose clothing for the rest of the day. It doesn't fade onto your clothes, and no need to immediately take a shower. I just showered at the end of the day per my normal routine. 
Overall, I really like the Soleil Toujours Tanning Serum and Lotion and think it's a must for summertime!
Thanks for reading my post, "Organic Sunless Tanning Product Review- Soleil Toujours"! Feel free to share with friends and family. Also, I'd love to hear from you! Drop me a comment below to let me know your thoughts or suggestions, and don't forget to subscribe if you haven't already to keep in touch!
For more fun reads check out my other posts here!
Photos by Julie Papikova
Originally posted on The Lunar Phase 7/12/20